I just have to share — brag — about awesome people for a moment. First off, Mark S. Luckie, the media mogul behind 10000words.net and author of The Digital Journalist's Handbook whipped up a campaign poster for my bid to be on the ONA Board… obviously on the heels of the whole 'Evil Man' bit. It looks freakin' awesome and want to make a HUGE poster for my office.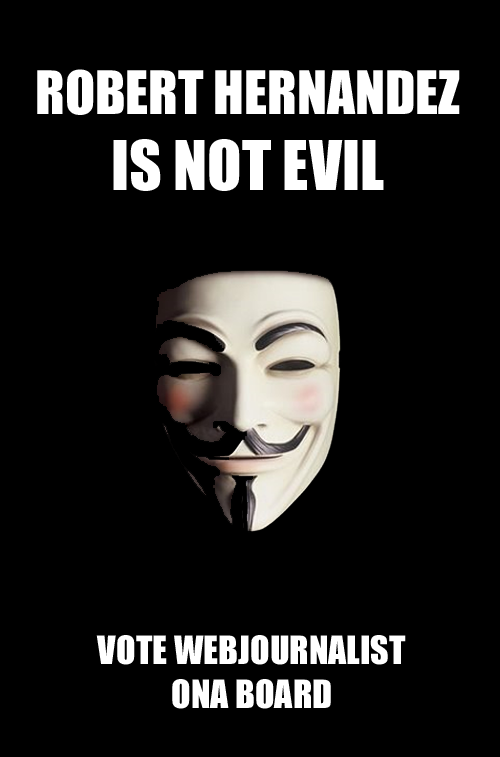 I've had the privilege of hanging out with David Cohn, aka DigiDave and founder of Spot.us, a few times, but none as fun as our time at ONA10. This guy is genuine and passionate about journalism and you should buy him a drink: Crown Royal on the rocks. He was nice enough to do a quick interview about #wjchat while at the conference.
Will Sullivan, aka Journerdism and 2010-11 Reynolds Institute Fellow, is perhaps one of the smartest, sweetest guys I've ever met. Dude is simply rad and is in love with journalism as I am. He had cool campaign pins, with messages like 'Jnerd 4 life,' and also has a Facebook ad. Did I mention he's smart? I hung out with him a bit at ONA and had a blast.
Bonus: He and Dave (also a Reynolds Fellow) are roommates at the moment, and if all goes well, they'll have a reality TV show Tuesday nights on NBC. Also, dude's photo is awesome.
Say what you will about Social Media and Twitter, I can not deny the fact that it has introduced me to some incredible people. #wjchat has allowed me to meet such wonderful people, like Robin Phillips, aka RobinJP and Web ME at Reynolds Center. We met virtually earlier this year and finally met in real life just two weeks ago. I can tell you Robin is going to be a true, lifelong friend. She wrote a response to my 'Jerry Maguire memo to journalism' that just blew me away: Open letter to Evil Man, aka Robert Hernandez
In my life, I've met a lot of wonderful people… people who, for some unknown reason, grab me by the scruff of my neck and push me forward. Doris N. Truong, Washington Post multiplatform editor and AAJA national secretary, is one of those people. I've only know or just over a month, it seems, but she has been an incredible advocate and friend. I've missed her since I've left D.C.
People who know me for a while, know how close I am to 'my sister'
Cory Haik
, "digital journalist at washington post." Her family and mine have been close from the moment we met each other and have been in pain since we've parted. Cory, as anyone will tell you, is an incredible person… on so many levels. She's also gracious and her laugh is infectious. You may not know it at first glance, but that woman is working overtime to save journalism.
WaPo is lucky to have her. Expect good things… not only journalistically, but fashionably too. She made a big splash with her newspaper dress at ONA10.
NOTE/WARNING: If you see us… expect a show. We bicker and fight about everything. So family.
Quite honestly, there is a much longer list here… so many folks that I got to meet in real life and that were so welcoming to me. I'm so grateful for their friendship. I'm a lucky guy… a guy with the awesomeness of friends.</cheesy>