Uploading a custom video into Instagram app (almost)
Since writing a how to post on uploading a custom video into Vine, based on Chris Medina's video walkthrough, lots of folks have been asking me for a similar trick for Instagram's new feature.
Well thanks to BritAlb, who added this in the comments, we have a link to a post by Austin Tompkins that claims to have figured it out. I have not tried it yet.
BUT, it is only for Android devices.
I did another Web search and found this post by Nathaniel Akin on techenvy.com. This post is also just for Android devices.
Again, I have not confirmed if their process works, since I am iOS / iPhone.
On my end, using the iExplorer, I was able to find the location where all the Instagram video files are located:
iExplorer –> iPhone –> Apps –> Instagram –> Library –> Application Support –> Instagram –> Videos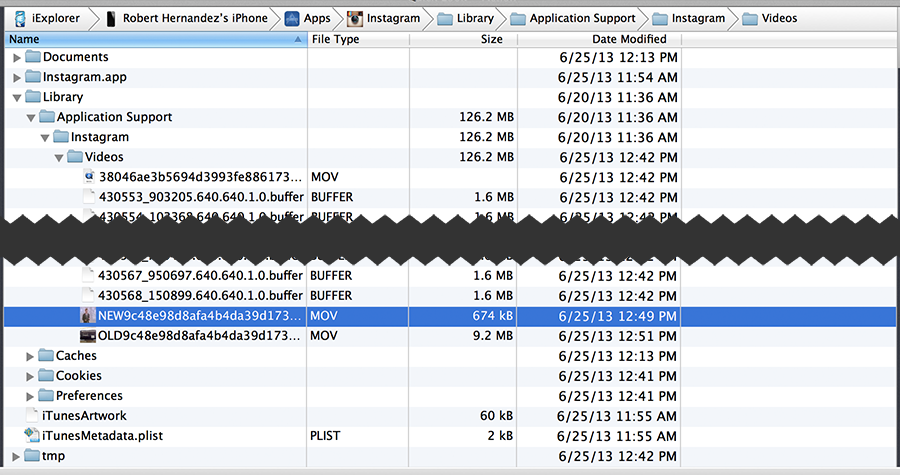 I did the swap out test from the Vine hack and it didn't take. I've done other experiments and they have also failed.
One thing I found interesting is that when I replaced the video with one of mine or another Instagram video, it would disappear from the app. When I restore it back to the original video it came back into the app.
In other words:
OG Instragram video –> externally edited video overwrites OG Instragram video –> video disappears from app.
Externally edited video –> A different OG Instragram video overwrites externally edited video –> video disappears from app.
Different OG Instragram video –> the ORIGINAL OG Instagram video overwrites different OG Instragram video –> video returns back to the app.
What this tells me is that there is some meta data tying it all together. I think the key is also the teaser image.
I'm about to board a plane, but I wanted to share this with others in hopes we can figure this out together!
We're making progress.