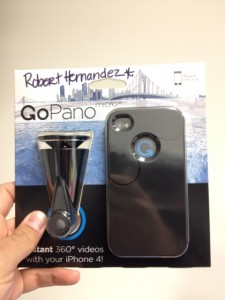 I just got a new tech toy in the mail that I think could be pretty effective in journalism.
"Could" is the key word.
The GoPano Micro (around $80) allows your iPhone to record and upload 360 videos that lets users to zoom in/out and scroll while watching the video. (I didn't know this, but they have adapters and software made for better-than-iPhone cameras.)
It's pretty easy to install and start recording. First, you snap on an iPhone cover and pop in the periscope-looking lens. Then you install the app and creating an account. That's it… you are ready to go.
You can record, view and share your 360 videos through your phone. The videos are even embeddable.
It's all pretty simple.
Except for one significant issue… the image focus is not good. It's bad.
Here are two tests I did:
USC Heritage Hall

My USC office

The @GoPano Twitter account did respond to my request for times on how to improve the focus by providing me with these links:
http://support.gopano.com/customer/portal/articles/221550-how-to-manually-calibrate-the-gopano-micro
They didn't really improve anything, but I appreciate their responsiveness.
I think software/app tweaks could really improve this device. Perhaps allow touch focusing as the video is recording… that way we can really control what gets in focus, rather then everything slightly blurry.
If the quality of the image improves, I can easily see this in a variety news situations and events. Can you imagine how awesome this would be in the middle of a riot?
Outside of the obvious need to improve the image, the next cool feature would be to live stream the 360 video.
There is no doubt that the technology is coming… I just wish it got here with my GoPano Micro.