I want you to take a moment and recognize something: Google Glass looks as technologically cutting-edge as the first Motorola Razr did in 2004.
This incredibly thin phone, which was a leap from its predecessor Motorola StarTAC, was fashionable and functional, making it the best-selling clamshell phone in the world to date and causing a dent into Nokia's indestructible brick phones.
Everyone had to have one and no one could believe how small it was.
For some tech context, in 2004 Google was still a private company.
iTunes was finally was made compatible with Windows machines, which made the iPod have its largest year since its launch in 2001.
AOL was still known as America Online.
The New York Times, and many other sites, looked like this: http://web.archive.org/web/20040306074613/http://www.nytimes.com/
We thought we knew tech. I thought we were in the future because I could text a question to GOOGLE and get an answer back.
(For more context, know that Facebook in 2011 was as big as the entire Internet was in 2004.)
Now, I want you to realize that Google Glass is at an earlier stage than that. Much earlier.
Think Zack Morris phone.
Think back when mobile phones were just for yuppies.
Who would ever want to carry a phone around with them?
Only those elitist businesses people who can afford that ridiculous technology… like Gordon Gekko
Check out this report on cellphones and yuppies:

Anyway you look at it, Glass is in its early stages. And it will soon look so outdated. It'll look like the first iPod.
Embarrassingly dated.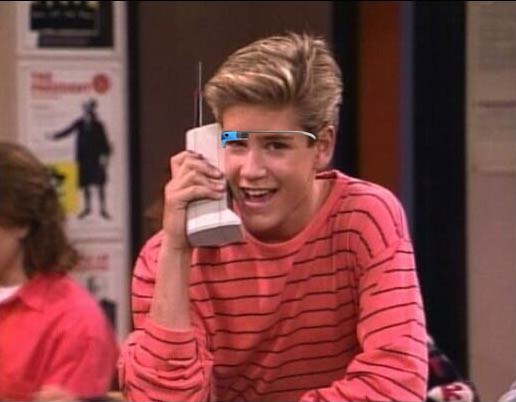 (Don't get me started on the short-lived pagers.)