Change the ratio! But I'm auditing myself first
NOTE: A version of this post ran on PBS MediaShift on Oct. 10, 2014. Lessons Learned from a #GenderAudit on Twitter
If I follow you on Twitter, you may have noticed that I've have added you to a Twitter list: Male or Female.
There's also a private list for People of Color*.
Before you freak out, let me explain what I am trying to do.
A few weeks back I heard a great segment on On The Media with Buzzfeed writer Katie Notopoulos, who created a holiday called Unfollow a Man Day. The piece originally aired on the tl;dr podcast.
Check it out:
This 'holiday' came from Notopoulos' decision from realizing she was following a ton of dudes on Twitter, rather than other females.
She explains it here: Why I Created The #UnfollowAMan Movement
Anyway, that got me thinking… for about a year, I have consciously been trying to diversify who I follow on Twitter.
I never want to be caught in an echo chamber, and I have learned that I get a beneficial edge when I hear outside voices, instead of hearing the same people from within the journalism industry.
But while my diverse follow was a conscious act, I still don't know if I have struck the right balance.
So, why not find out?
And that's where these lists come it.
I'm starting a new Twitter/Diversity experiment on myself… I'm putting everyone I follow on a gender list to see the difference and ratio.

— Robert Hernandez (@webjournalist) August 29, 2014
By going through the 960+ people I follow and doing an inventory, I can achieve a couple of things:
1- What is my actual ratio? If I am preaching diversity and parity, am I practicing it too? I don't know, and that's what I am looking to find out. This self-experiment really is an audit.
2- In the interview with Notopoulos, she said she realized that some stories that were seen as newsworthy coming from "Twitter buzz," were only a buzz for men. Meaning, because she followed dudes, dudes' topics dominated. For me, inversely, I want to see what topics are not buzzing in my stream… or who is it buzzing with.
There is such a thing as Black Twitter. Latino Twitter, non-English Twitter… but most users don't know (or care) because they follow people and communities they know… or reflect their experiences.
Side note: I wrote this post at 11:30PM-ish, because some people were weirded out by being added to a list. And one person, I feel, began to project some assumptions on what I am trying to do… hence this quick post.
But, let me be clear… just like Twitter, this is for me. I use Twitter for a tool that benefits my knowledge. And now I am using Twitter lists to benefit me as well. I am dying to know the results of this self-imposed audit and see if I can spot any patterns. I am coming in with NO ASSUMPTIONS, open to whatever results may come.
And, for the record, I don't care if this is scientific or not. This is me grouping subjective follows along gender lines and see if anything emerges. I'm a hackademic, not an academic.
Now, after reading this post, I want to invite/challenge you to do the same thing. Find out if your stream is skewed by following one community more than another… hell, find out if you have a bias. Let me know if you try this thing… and, of course, feel free to share your thoughts on what I am doing. I'm trying to be open and transparent… and I am coming with good intentions.
UPDATE: At 12:21AM, I renamed my lists to be Gender Audit Proj: Female and Gender Audit Proj: Male, to be clearer on what I am doing.
NOTE: I started this "self-experiment" late this evening on a whim… and my brain is turning into mush as I add *everyone* to a list… so I assume I have made some errors. If you spot one, please let me know… thank you!
* The People of Color list is currently set to private, because there is a chance I add or leave out someone accidently and I don't mean to offend.
// UPDATE & ADDITION (5/14/15)
A student recently told me about TWEE-Q, which analyzes which gender you retweet more. If you think about, having a balanced gender feed is a great step, but how you engage with the feed is an important metric.
What's the point of following a balance if you only engage with one side?
So, I ran my Twitter name through the web app and got this result: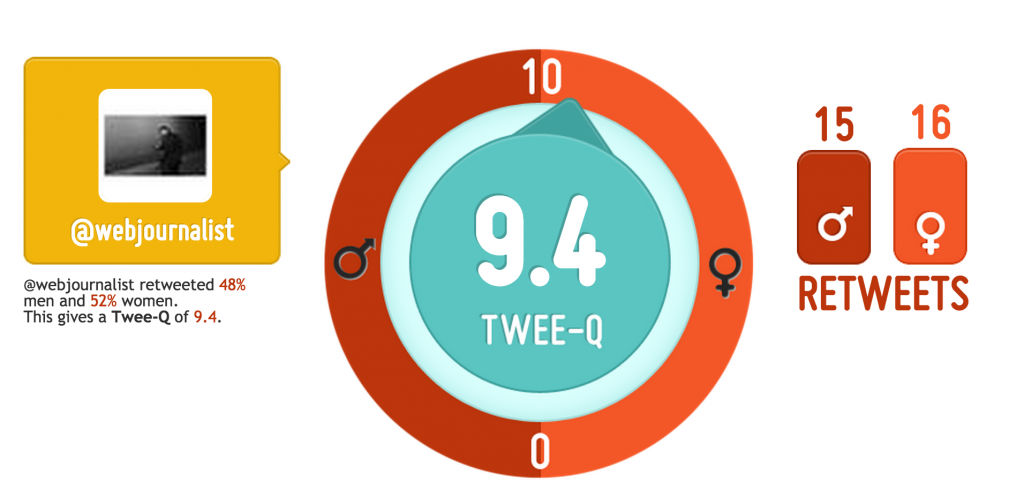 "@webjournalist retweeted 48% men and 52% women." I am proud of this result!
// OTHER AUDITS
Feel free to tweet me your audit results as well!
@webjournalist Audited my follows. 255 male, 115 female, 90 other (spoofs and, mostly, collectives/institutions, eg publications

— King Kaufman (@king_kaufman) August 29, 2014
My twitter-feed gender audit results: 149 male, 121 female, 120 other (group/spoof/etc). @webjournalist pic.twitter.com/G0TtLP0UFc

— Wendy Sawatzky (@wendysawatzky) August 29, 2014
@webjournalist My gender audit: Following 446 men, 409 women. Thanks for the idea.

— April Burbank (@aprilburbank) September 2, 2014
Completed #genderaudit: I follow 409 men vs 289 women, or 59% vs 41%. (Twitter analytics guessed 71%/29%)

— Daniel J Bentley (@DJBentley) September 3, 2014
After today's gender audit, I put together this blog post about what I did and what I learned: http://t.co/N8fQ6LWsOQ #changetheratio

— Amy L. Kovac-Ashley (@terabithia4) September 12, 2014