Hugo Chàvez selects his weapon of choice for Twitter
UPDATE: Hugo Chàvez (or his Social Media guru) has updated his Twitter page with some nice, revolutionary red colors. He is also now following five people… @ubertwitter is not one of them.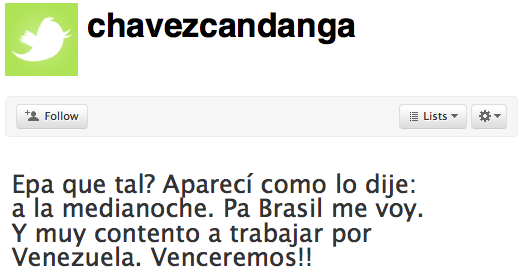 Venezuela's controversial president Hugo Chàvez has just joined Twitter (@chavezcandanga)… and he's taken a page from Conan O'Brien's (@ConanOBrien) Twitter playbook.
Just like the late night talk show host, Chàvez is following only one person. Unlike the late night talk show host, Chàvez probably didn't really think about who he selected.
(For the record, by "person," I'm using the U.S. Supreme Court's version of the term.)
Chàvez is following @ubertwitter, the Twitter client popular on BlackBerry smartphones.
More than likely it was a default setting, but I can't help but wonder… is TweetDeck jealous or relieved.